Ellisys USBTR110 USB1.1 Development Tool
Manufacturer: Ellisys
This product is discontinued.
Limited stock - call for quantities.
The USB Tracker 110 is the ideal USB analyzer to support the development of a USB device and related software. It enables a USB device to be verified at different level of abstraction. We have paid particular attention to the design of the user-interface, which presents data in a clear and precise way. It analyzes the operation of an existing device, searches for incompatibilities and measures the performance of a driver or piece of equipment. We hope you will be completely satisfied with the USB Tracker!
Software
Many samples are included in it giving an extensive rundown of possibilities. Click the image to expand it.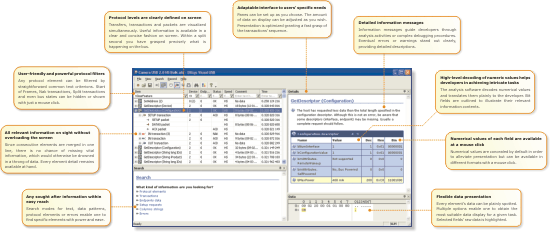 Hardware
| | |
| --- | --- |
| A USB protocol analyzer enables engineers to actually see what the data on the USB bus looks like. Connected between a computer and a peripheral, the USB Tracker records all data, electrical states and control information transmitted on USB. It affects neither communication nor peripheral behavior. | |
Benefits
Saves development and maintenance costs
Prevents simple errors from becoming serious problems
Improves quality and reliability of USB subsystems
Streamlines development and testing processes
Accelerates learning curve for USB protocol
Unburdens technical support staff
Highlights
Low speed (1.5 Mbit/s), Full speed (12 Mbit/s) and mixed capture
Automatic detection of the Link Under Test speed
Measurement of USB bus states and low level protocols
Highly affordable permitting to supply each developer with one unit
Non intrusive analysis
High leveldecoding of classes requests and descriptors (Mass Storage, etc.)
Applications
Enumeration issues validation
USB device and host development
Performance analysis
USB drivers and software stacks debugging
Test-bench automation