Teledyne LeCroy Mercury T2P Advanced USB Analyzer (USB-TMAP-M03-X)
Manufacturer: Teledyne LeCroy
This product is no longer available.
This product has a 2 week lead time.
Description
Specifications
Downloads
The pocket-sized Mercury T2C & T2P capture and decode the widest range of USB 2.0 device classes plus Type-C link states and Power Delivery 3.0 messages. Both the Mercury T2C and T2P utilize the industry leading CATC Trace analysis software for verifying and debugging USB and PD protocol issues. Now there are two base models to choose from; the original Mercury T2C and the new Mercury T2P, which adds the Power Tracker graphical view of VBUS and CC voltages.
The main differences between Mercury T2P Vs T2C are:
T2P has more Acquisition Memory ( 512MB T2P vs 256MB T2C)
PowerTracker Option included ( VBUS Power Measure Option)
DisPlayPort Aux Decoding and Thunderbolt LSTX ( both are low level support for the mentioned protocols)
All other options on the T2P Mercury units are identical to the T2C
USB Power Delivery 2.0 & 3.00
The Mercury T2C & T2P can capture and decode USB Power Delivery 2.0 / 3.0 packets over the Type-C Configuration Channel (CC) in addition to USB 2.0 data packets. Users can view the CC packets including cable detection, power negotiation, UFP and DFP role swaps, entrance to / exit from Alternate Modes and other Type-C Power Delivery behaviors. All the Mercury models include adapter cables allowing easy attachment to legacy USB hosts and devices. Leveraging Teledyne LeCroy's expertise in USB, the Mercury solutions put the industry's leading test tool within every engineers budget.
USB Device Decoding
Comprehensive USB Device class decoding is included with the Mercury T2C & T2P: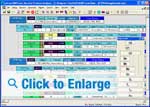 This allows users to see upper-level mapped protocol events within the trace eliminating the tedious process of manually decoding device specific commands. From Mass Storage to Communication Device Class (CDC), the Mercury T2C & T2P provide the most complete decoding of USB device transactions.
Affordable and Portable

The Mercury solutions lead the industry in affordability offering comprehensive USB 2.0 test and analysis features. Starting at $995, the Mercury can be used virtually anywhere, extending beyond the lab environment over to the personal workstations of USB developers. Every engineer within a design team (hardware, software, and firmware) will appreciate the benefit of having a personal analyzer to fit their individual needs.
View and Understand USB Protocol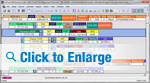 Featuring the industry-leading CATC Trace expert analysis software, the Mercury T2C & T2P provide an easy-to-use display that graphically decodes logical protocol events. All models of the Mercury include the same comprehensive decoding of the higher layer protocols which can be expanded to show the underlying transactions and packets.
Key Features
Supports USB Power Delivery 2.0 & 3.0 – Captures and decodes all Configuration Channel (CC) events
CATC Trace Analysis Software - Faster interpretation and debug of USB traffic
Portable and Convenient - Bus Powered analyzer works with any Windows-based PC
AutoDetect USB 2.0 Speeds - Automatically detects low, full, and high-speed connections
Power Tracker™ - Graphical view of VBUS and CC voltages synchronized to PD protocol messages
Up to 512 MByte Recording Capacity – Extend capture windows further with real-time filtering and data truncation
Spool-to-Disk Mode - Record for hours or even days with spool-to-disk capture
Non-intrusive High Impedance Probe - Preserves real-world signal and timing conditions for devices-under-test
Advanced Triggering - Isolates important traffic, specific errors or data patterns
Extensive Decodes - Mass Storage, Bluetooth HCI, Hub, PTP/Still Image, Printer, Human Interface Devices (HID), Audio and Communication Device Class (CDC)
Hardware Filtering - Automatically exclude non-essential and redundant packets from the trace
Intelligent Reporting - Quickly identify and track error rates, abnormal bus or timing conditions
Sophisticated Viewing – Provides complete Packet, Transaction and Transfer layer views of USB 2.0 and PD protocol
Non-intrusive Analysis Hardware
Completely passive in design, the Mercury preserves real-world signaling and provides 100% faithful representation of traffic on the bus. Featuring a high-impedance, non-intrusive probe, the Mercury acts strictly as a "sniffer" and does not re-time the signal or significantly degrade the amplitude between the host and device. The Mercury T2C offers 256MB; while the Mercury T2P doubles the recording capacity to 512MB. Both systems can extend capacity with filtering, data truncation, and spool-to-disk capture for longer recording times. Fully compatible with USB Type-C standard, all Mercury models will 'pass through' SuperSpeed or Alternate-mode signaling without affecting their operation.
Real Time Triggering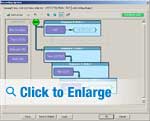 Isolating specific protocol events with real time triggering is essential to capture intermittent problems. Both the Mercury T2C & T2P provide sophisticated triggering with drag-and-drop selections for PID type, data patterns, standard requests, errors, and bus events. The Mercury provides 14 protocol error triggers with auto-detection of several additional post-capture errors. The ability to trigger & pinpoint specific bus conditions as they occur saves time during testing and debug.
Power Tracker Measures Voltage & Current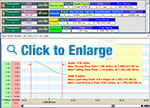 The Power Tracker option monitors Vbus power draw and displays voltage graphically in a time line format. This power information is synchronized to the trace allowing users to verify power state transitions at the both the protocol and electrical layers. Completely transparent to the system-under-test, the Power Tracker samples VBUS and CC voltage during normal operations. It correlates these physical layer measurements with logical protocol layer events.
Precision Timing Measurements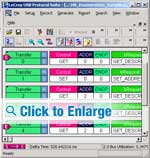 The CATC trace software includes a persistent timing display that provides one-click measurements between events. The bandwidth calculator provides full bus utilization metrics for any range of packets.
Find The Issues Fast
Teledyne LeCroy's USB software provides many mechanisms to measure and report on USB traffic. The Bus Utilization graphs packet length, bus usage by device and SCSI pending I/Os. Using the Traffic Summary window, users can evaluate statistical reports at a glance or navigate to individual packets, transactions or transfers.
Zero Time Search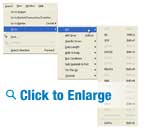 Powerful search and reporting options allow users to quickly navigate to specific packets, errors and any data type within a trace file. The CATC Trace also supports filter and hide commands, to remove irrelevant data from the Trace for efficient viewing.
The Mercury T2P is also available with an "SBU Capture" option (USB-MCDP-M03-X) allowing users to see DisplayPort Aux channel messages. Fully compatible with DP 1.4, the SBU capture mode decodes the essential back channel communication for Type-C connections that support DisplayPort Alt-Modes.