GP-24132 USB 2.0 High Speed 32 MB Digital Pattern Generator
Manufacturer: ByteParadigm
This product is no longer available at Saelig.
Description
Features
Specifications
Downloads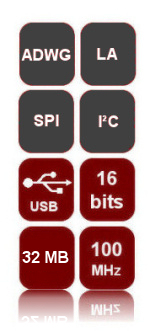 GP-24132 is a USB 2.0 high speed digital pattern generator, logic analyzer and bi-directional protocol (SPI/I2C) host adapter.With its plain 32 MByte embedded memory buffer, 100 MHz operation on all 16 digital lines, and a sustained USB throughput up to 30 MByte/s, the GP-24100 is a powerful general purpose and evolutive PC-based solution that ideally complements your lab equipment for digital electronic system design, test and debug.
Its 32 MB memory allows unprecedent recording length or digital patter depts at maximum frequency for sampling and pattern generation (logic generator).
GP-24132 is the flagship of GP Series GP-241xx devices.
With its ADWG / pattern generator mode of operation, the GP-24132 allows you to generate extended depths of arbitrary digital stimuli, directly from a PC through a USB connection.
Conversely, the Analyzer mode of operation transforms the GP-GP-24132 into a simple logic analyzer to collect and analyze digital data.
With the GP-24132, generating and collecting digital data to stimulate and analyze electronic systems have never been easier. Moreover, the provided 8PI Control Panel software offers free rich graphical, scripting (TCL/tk) and programming (C/C++) interfaces to automate tasks and make a bridge between your own programming environment and a real hardware prototype.
*** IMPORTANT: ALL GP and Xpress series devices with serial number starting with "05" must be used with 8PI control Panel software version 2.05 or newer. ***
Customers who purchased this product, also purchased...
LOG Storm 2MS High-Speed Digital Data Logger
Price: $329.00