Front Designer - Panel Design Software
Manufacturer: ABACOM
This product is discontinued.
Times have changed and there is no need to keep your elaborate electronic project in an old box any longer. Attractive cases are available from many sources for almost any electronic application you can think of. But home-made devices often look incomplete, lacking a neat front panel design. Now anyone can use FrontDesigner to create professional-looking front panels for your home-grown devices using the following software package features:
Precisely-placed colored and b/w symbols and labels

predefined and user-editable library

a scale-assistant to create scale markings for switches, potentiometers and instruments

measurement options to simplify drilling

a mirrored printout for transparent films to give long-life, scratch-resistant economical panel design

HPGL export feature to create PLT files, so you can mill and engrave your front panel.

and many more ...



Front panel construction with transparent films - Click here!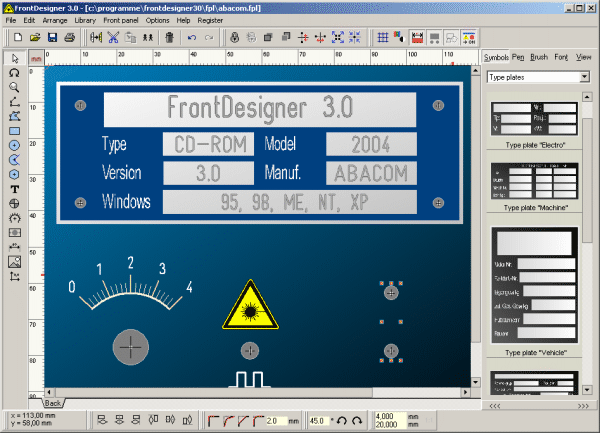 FrontDesigner is a software package with many special functions specially designed to create front panels. The software is equipped with easy-use drawing functions for rectangles, polygons, ellipses, labels, drillings, etc. All objects can be grouped into more complex symbols. Specialized functions offer features for rotation, stretching, mirroring, drilling, milling, etc. Rounded and interpolated contours are possible, as well as chamfers. All functions are easily reachable from dockable tool palettes. Grid and capture options are available with all functions.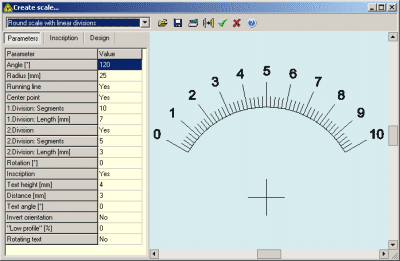 Scale-assistant
The integrated scale-assistant helps you to create perfect scales of every kind. Linear or logarithmic, round or flat, dashed or dotted - the scale-assistant will always create a perfect scale from your parameters. Any changes in the parameters will be displayed immediately, so you always have visual control. Just one click, and the scale is on your front panel. You can even save and load the scale-assistant parameters.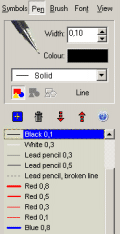 Pens, brushes and colors
Pens and brushes are available in all colors with different styles. You can define and store your own pens and brushes. This makes it easy to set the pen parameters of an object with a single click, instead of setting pen width, color and style again and again. Store your brushes and pens with easily-remembered names, like lead pencil, felt pen, ballpoint, etc. Broken lines and hatches are possible too.
Symbol-library
FrontDesigner is equipped with a symbol-library, which includes many symbols from different themes such audio, home, climate, vehicle, etc. Of course you can add your own symbols to extend the library. Even bitmaps or metafiles with symbols from the internet or company logos can be easily added to the library.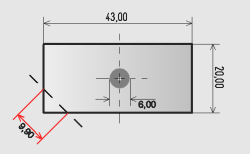 Measures
FrontDesigner creates measure objects that are ideal as construction aid and for manufacturing instructions. Simply click to two points of the front panel and the distance is calculated automatically. Another click completes the measure object with arrows, lines and figures.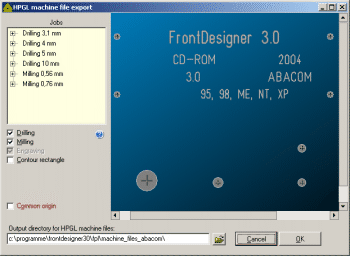 Milling, engraving ,... HPGL-Export
With FrontDesigner you can mill or engrave your own front panels. The HPGL export feature creates plot files, which you can use to produce accurate front panels using CNC machines. FrontDesigner can handle AutoCAD SHX fonts for milling and engraving. These fonts are generally defined as "single-stroke" fonts, unlike Windows TrueType fonts, sothese fonts guarantee a perfect result.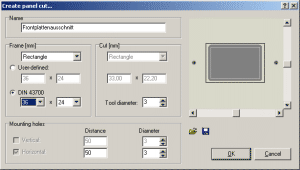 Panel cuts
Another special feature of FrontDesigner is the panel-cut function. This function creates rectangular or round cuts on your front panel. By specifying milling width, cutting is calculated exactly.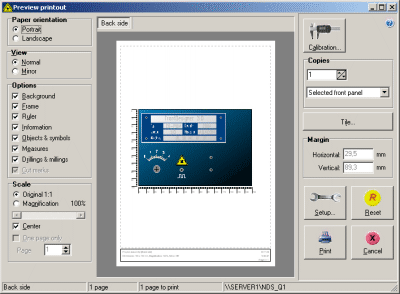 Printing
FrontDesigner has a handy print-preview with several options. Mirrored printouts on transparent films are possible, as well as construction plans, which show drilling, millings and measurements. FrontDesigner can create a printout over several pages - up to 70 inches. The printout is automatically divided into several pages.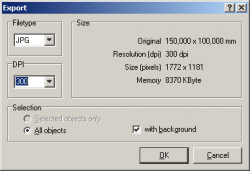 Graphic export
You can export your front panel for use in other software. With graphics export you can insert your front panel into, for instance, word processing software to document your project. You can export the front panel into BMP, JPG or EMF with resolution up to 600 dpi.
Customers who purchased this product, also purchased...
Aim-TTi TGP110 - 10MHz 115V Pulse Generator with D

Price: $434.00




Aim-TTi TF930 - 3GHz Bench/portable Universal Coun

Price: $463.00